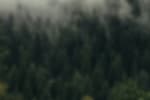 Le Lagöm - Montagne le Maelström
38 Chemin de la Passerelle, Lac-Beauport, Québec G3B 1B3, Canada
Venez vivre une expérience unique above the Sky et découvrez notre écohébergement entièrement équipé pouvant accueillir 4 personnes. Avec un panoramique à couper le souffle et ses plafonds de plus de 20', vous y découvrirez un décor féérique. Fonctionnant entièrement à l'énergie solaire et ses 35m2, le Lagom vous offrira la possibilité de refaire votre plein d'énergie et vous ressourcer. Veuillez noter que les frais de services dans le prix concernent la TPS & TVQ.
* Traction intégrale exigée ou VUS du 1er novembre au 30 avril sinon un service de navette est disponible ($).
Le Lagöm est un art de vivre suédois, une quête d'équilibre par le juste milieu, soit l'art de vivre mieux avec moins ! Avec ses grandes baies vitrées, le Lagöm promet une immersion totale au plus proche de la nature avec une vue imprenable sur les montagnes et le fleuve Saint-Laurent. Il n'y a aucune télévision dans le chalet afin de réduire au minimum la consommation d'énergie mais ne vous inquiétez pas, le wifi est disponible grâce à notre satellite. Vous pourrez donc rester en contact sans problème avec avec vos ami(e)s & votre famille. Ne tardez pas à ouvrir les stores à votre réveil grâce à notre domotique afin d'admirer un lever de soleil à couper le souffle. Juste après vos activités de la journée, vous pourrez profiter du foyer au salon ou encore de vous réunir tous ensemble autour du feu à l'extérieur, sur notre galerie qui fait rêver ou à des points spécifiques grâce à nos sentiers de marche!
CITQ # 298420
+ Cuisine entièrement équipée
+ 1 lit KING
+ 1 canapé-lit double
+ Literie incluse
+ Four au gaz
+ Extension d'une table à manger pour 4 personnes
+ Serviettes de bain, draps
+ Corde à linge
+ Air pulsé
+ Store du haut (domotique)
+ Grandes baies vitrées
+ Foyer au gaz
+ Haut-parleur Bluethoot
+ Air Climatisé
+ Ventilateur au plafond
Extérieur
+ Points de vue époustouflants
+ Poêle au bois
+ Barbecue (été seulement)
+ Hamac (été seulement)
+ Chaises bronzantes (été seulement)
+ Bike-in / Bike-out
Choosing the Lagöm is living a unique experience above the sky. This ecologic chalet can welcome 4 people. With a stunning panoramic view and its big roof (20'), you will discover a magical place. Using the solar power for its 35sqm, the Lagöm will reenergize you and relax you.
At the beginning, the Lagöm is a swedish way of life: how to live well with less ! With its large windows, the Lagöm offers you a totale immersion on the nature with a breathtaking view on the mountains and the Saint Laurent river. There is no television on the chalet to reduce your energy consumption but don't worry WIFI is in here. You could contact your family and friends thanks to our satellite. For an outstanding sunrise, you could open the curtains with our home automation when you're waking up. After the different day activities, you could enjoy the living room and its gaz fireplace or enjoy an outside fire ou look at the stars from our galerie ou hiking trails. *AWD required or SUV from November 1 to April 30 otherwise shuttle service is available ($)
CITQ # 298420
Inside
+ Kitchen fully furnished
+ 1 KING size bed
+ 1 sofa-bed
+ Sheets included
+ Gaz oven
+ Extension table for 4 people
+ Towels
+ Clothesline
+ Central forced air system
+ Curtains (home automation)
+ Large windows
+ Gaz fireplace
+ Air Conditioning
+ Bluethoot speaker
+ Roof fan
Outside
+ Breathtaking views
+ Wood stove
+ Barbecue (summer only)
+ Hammock (summer only)
+ Sun loungers (summer only)
+ Bike-in / Bike-out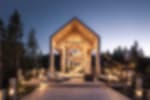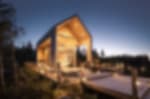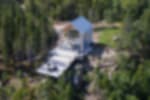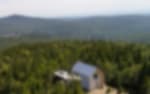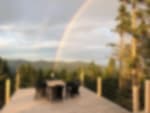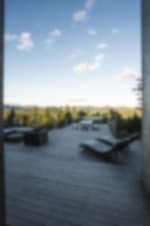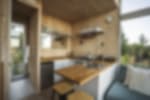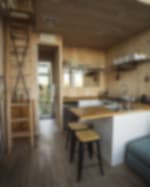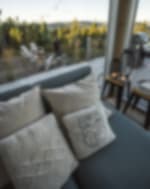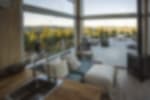 Air Conditioning, Credit Cards Accepted, Dry Cleaning, Dryer, Free Internet, Free Parking, Free Wifi, Freezer, Hair Dryer, Heating, Housekeeping, Clothes Iron, Ironing Board, Non Smoking, Parking Available, Room With A View, Shampoo, Smartlock, Washer
Disponibilité - Availability